The Space Captain's Courtesan 
Mya will do anything to convince him to become her hero, even if that means becoming the one thing he can't resist…The Space Captain's Courtesan

Mya is having a crap day.
Princess Mya Centauri is stranded and alone on the shady Bates Space Station. With rumors of her father's dethronement escalating, she needs more than her wits and entitlement to protect her—she needs a hero. So when she unexpectedly finds herself mistaken for some whore by Centauri's most notorious assassin, and at one time her father's most trusted man, she decides things can only get worse.
Jax is having a crap decade.
Framed for a crime he didn't commit, Captain Jax Rouss, an ex-Royal Guard, is now an escaped prisoner with a price on his head. Embittered after years of trying to clear his name, Jax wants nothing whatsoever to do with the family he once swore to protect. So when he wakes up to find that the sweet, smelling patron-pleaser he's purchased is not only lovely, but already in his bed, he decides things can only get better.
But with lives at stake and kingdoms in jeopardy,  Mya will do anything to convince the one man who hates the Royal family above all else to become her hero, even if it means being the one thing he can't resist…The Space Captain's Courtesan.
On Sale Now
A
The Texas Sunrise Box Set now available at all major platforms.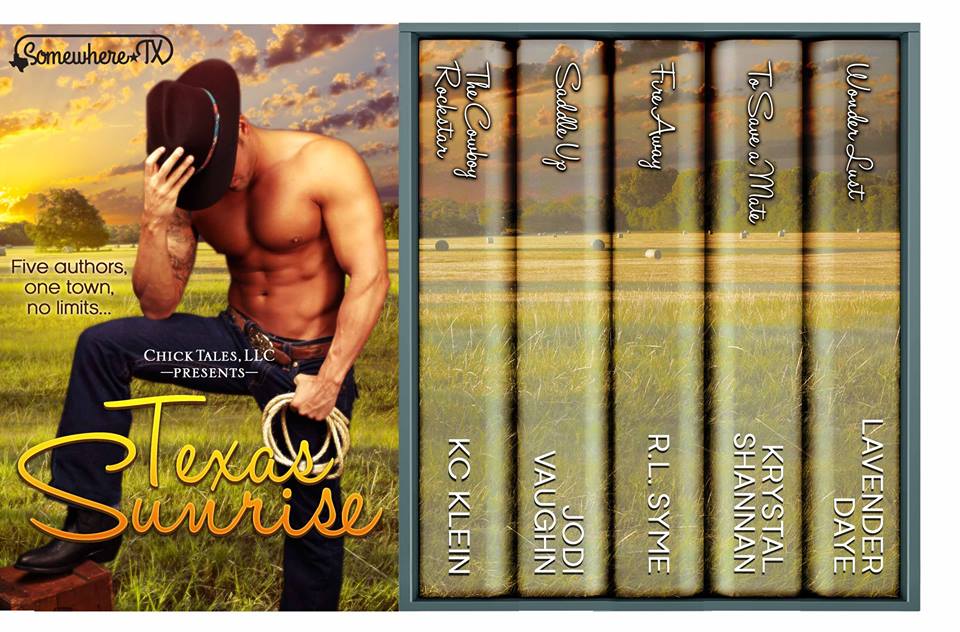 Welcome to Somewhere, TX
Five Authors, One Town, No Limits…
Volume 1
THE ROCKSTAR COWBOY by KC Klein (Contemporary Western Romance)
She's off-limits and he's off his game, but together, they could make perfect harmony…
SADDLE UP by Jodi Vaughn (Contemporary Western Romance)
She can heal his broken ribs, but it will take more than medicine to repair her reputation…Things are about to get a whole lot hotter in Texas.
FIRE AWAY by R.L. Syme (Contemporary/Foodie Romance)
When two people fall for the same cupcake, more than tempers flare…
TO SAVE A MATE by Krystal Shannan (Paranormal/Werewolf/New Adult Romance)
A chance he'd never thought he'd have comes at a price he never wanted her to pay.
WONDER LUST by Lavender Daye (Contemporary Romance w/Paranormal Elements & BDSM Elements)
The Jackalope café wasn't known for romance, but when Max and Delia met, the rules disappeared. Could a one-night-only affair be enough?
The Rock Star Cowboy available inside the Texas Sunrise box set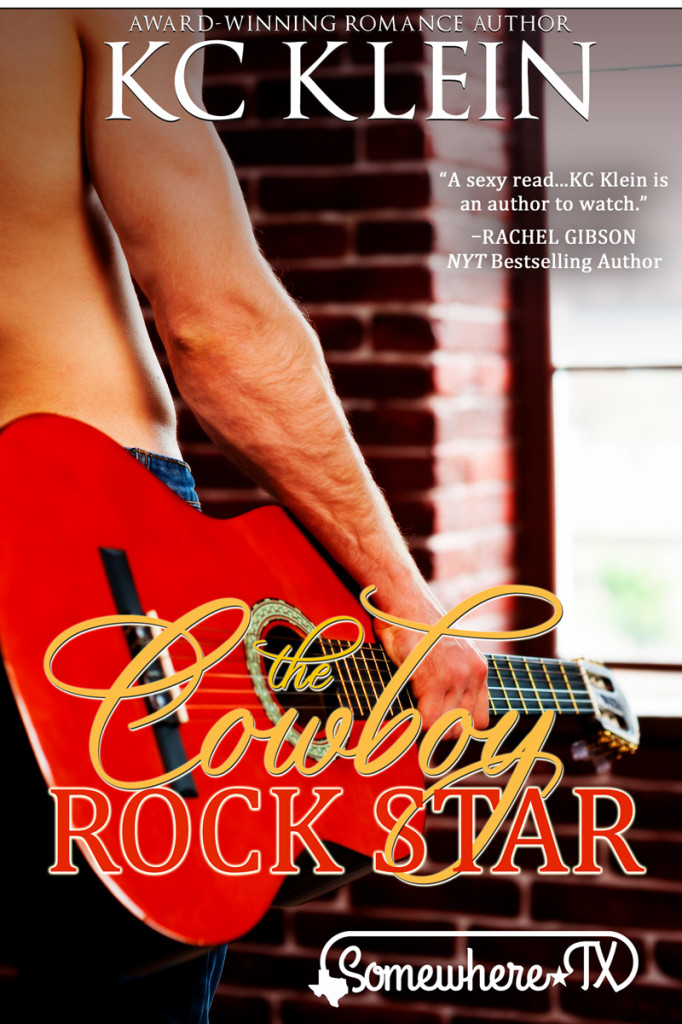 Everyone loves a rock star
What country legend Brent Kane needs is a good old fashioned hook-up. With pressure to write his next album mounting and the sales from his latest album teetering, Brent needs to find his muse –hot sex with no commitment—fast. So when Brent holes up at his best friend's ranch in Somewhere Texas to write his next single the last thing he expected was to find his muse in the form of his best friend's little sister.
DJ Diaz, the nonsense part owner of the Double D Ranch, is not at all affected by Brent's good looks and play boy charm. She's fallen once before and learned firsthand the heartache of loving a rock star. But spending time with the man who let her down ten years ago shows her that something's missing from her life—fun. But will DJ be able to keep her heart from becoming involved in this "just for fun" relationship? And more importantly, will Brent?
Book Two in the Texas Fever Series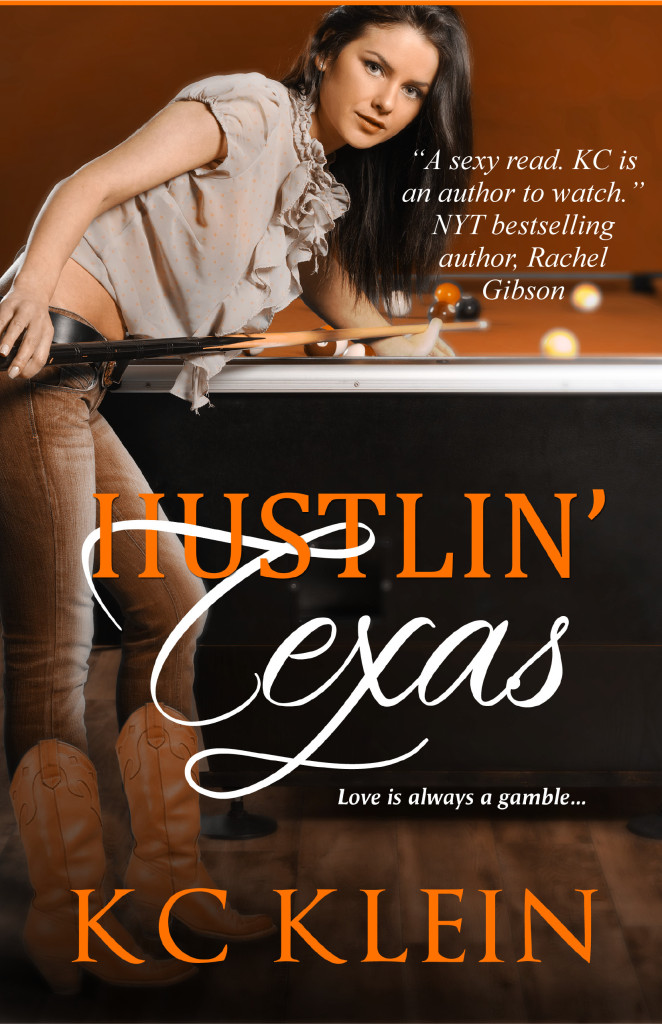 Praise for Hustlin' Texas book two in the the Texas Fever Series
"A sexy read. KC Klein's hero is as hot as a Texan summer's day. KC is an author to watch." NYT bestselling author, Rachel Gibson
"Sassy, sexy, fun, but sweet at heart, KC Klein knows how to spin a tall Texas yarn." NYT bestselling author, Lori Wilde
I highly, highly recommend HUSTLIN' TEXAS, book two in the Texas Fever series by KC Klein if you love romance at all. " A. Valentini
"Fabulous surprise!!!" Ripe for Reader
"Wow" Rad Reader
Only one person in Oak Groves is happy to see bad girl Nikki Logan back in town…
Oak Groves' most beloved bachelor, Jett Avery, lives by a simple set of rules. Getting involved with a complicated woman isn't one of them. He learned that the hard way two years ago when he spent one of the most incredible nights of his life with Nikki Logan. But then she hightailed it out of town, never to be seen again—until now. It might be time to break one of those rules…
Picking up the pieces of her life, Nikki is back in Oak Groves, face to face with the one man she's done her best to forget. But she has her reasons for being here—and they don't include winding up in bed with Jett. Especially since he'll never forgive her once he finds out the truth about why she's back…
Praise for KC Klein's Texas Wide Open
"Passionate, gritty and fast-paced…with a hot-blooded, honorable hero to make every woman's knees go weak."—Diane Whiteside
"A tortured hero, a love that defies distance and time…this is a book you won't soon forget."—Cat Johnson
Katie Harris loved growing up on a ranch. She had her horse, the beautiful Texas prairie, and Cole Logan, the cowboy next door. But there are a lot of secrets hidden under a Texas sky…
Katie always knew she'd marry Cole one day—until he broke her dreams and her heart. But now that Katie's father is sick, she's back home, older, wiser and nowhere near the love-sick fool she once was.
Cole knows Katie doesn't want anything to do with him. But after so many years, he can't pretend she's no more than a neighbor. Not when thinking about her cherry lip gloss and hell-for-leather passion is keeping him up all night. Holding his ground was hard enough when she was seventeen. Now that she's her own woman, Cole's heart doesn't stand a chance…
Dark Future Series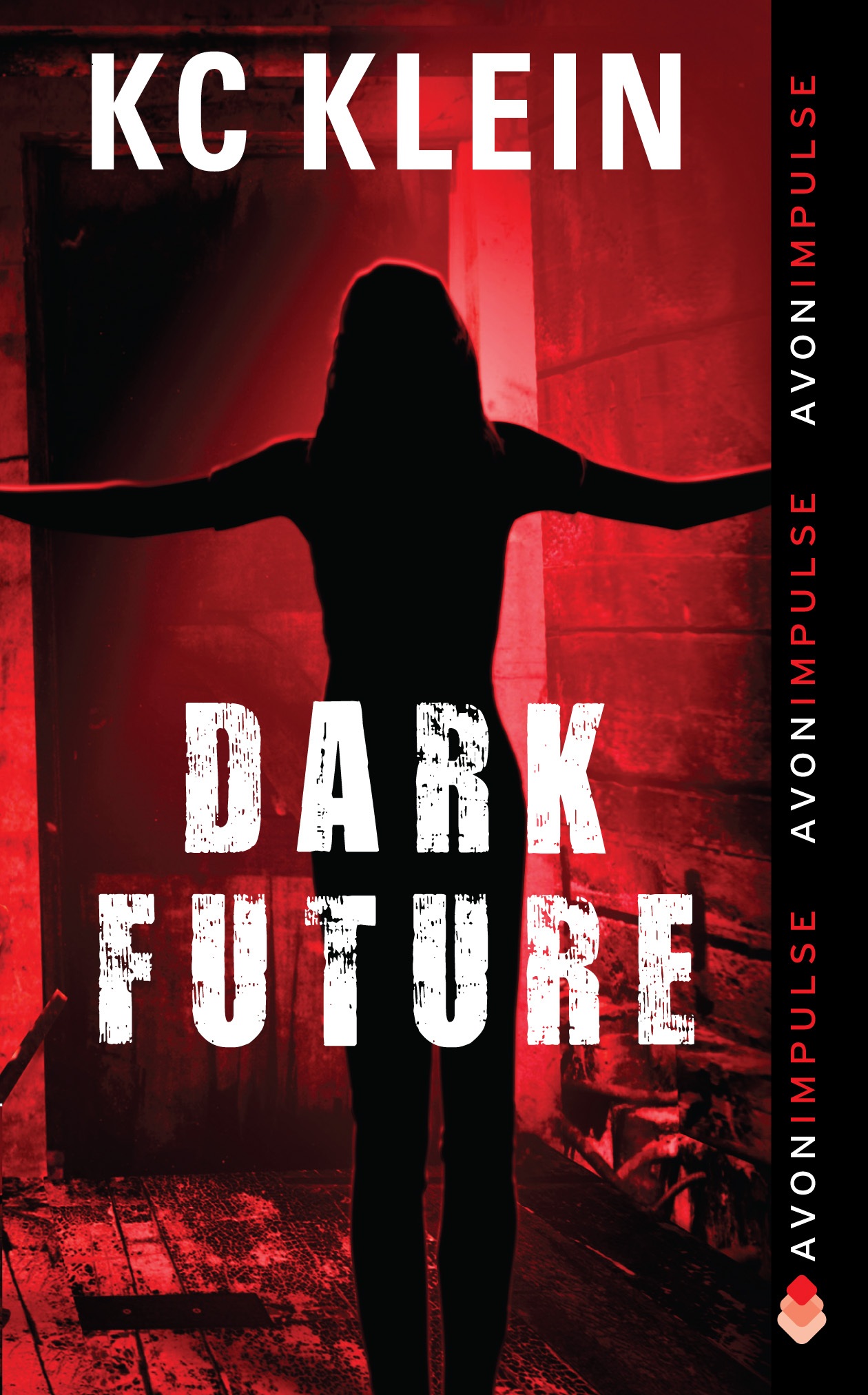 Praise for KC Klein's Dark Future
"Dark Future is simply everything you hope a book will be when you open it up to the first page and begin reading." Awarded the Reviewer's Choice Award by Two Lips Reviews
"All of the elements of a heart-wrenching romance presented against a dystopian futuristic backdrop." Kelly DeVos

"Dark, gritty, and utterly entrancing, this book absolutely blew my socks off…" Jess the "Romanceaholic"
A woman caught between two futures…
Awakened in the middle of the night by a future version of herself, Kris Davenport is given a mission: go travel in time to save the world–and his life. Of course, her future self doesn't tell her who he is just sends her into the darkness and straight into an alien invasion.
…must choose between the man who has her heart…
He turns out to be ConRad Smith, the callous, untrusting military commander of Earth's army and the world's last defense. There's only one way for Smith to know for sure if this strange woman is an alien spy–slice her throat. Except, he didn't anticipate the desire he would feel as he interrogates the hot-tempered, warm-blooded woman.
…or the fate that saves the world.
As Kris and ConRad struggle to trust each other in a world on the brink of destruction, they each will have to face the ultimate choice of whether to fight or die… survive or forgive.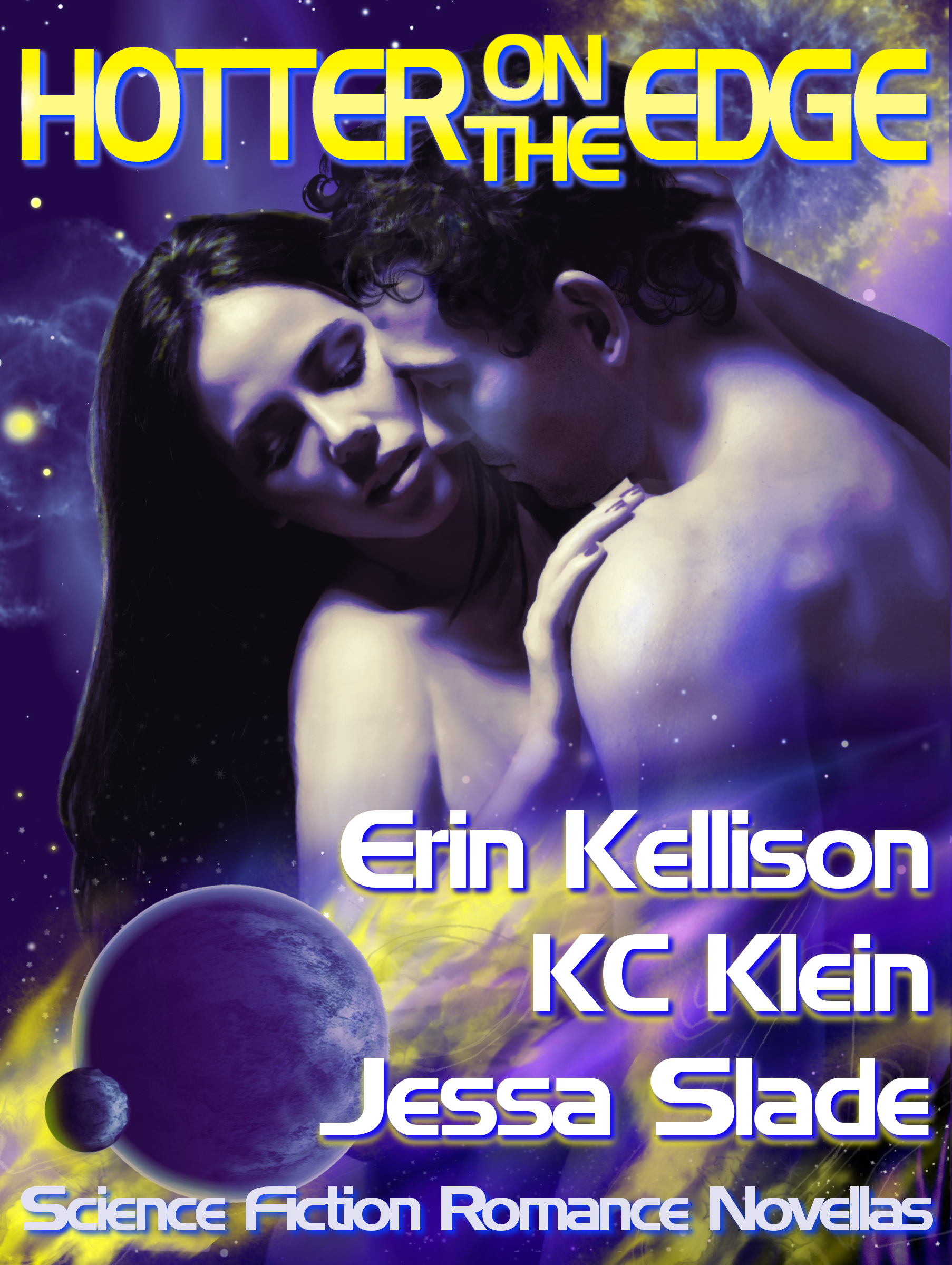 To Buy a Wife (A Dark Future Novella 1)
In a harsh land where corruption rules and women are few, cold realist Hudson Land must purchase a wife to save his farm. Instead of an auction, he witnesses the start of an execution. With his first look at a beautiful woman in years, Hudson knows he has to have her—no matter the cost. Lake, a chemist and a rebel fighter, is resigned to her death, but when some back-hill farmer rescues her from the chopping block she has no intention of simply becoming his wife. She's pledged her life to the Rebellion and being bought for some stranger's bed doesn't change a thing, even if his soft caresses are damn distracting. As lies and secrets build between them, are the quiet moments they've shared enough to stand against two warring factions in a world where only the strong survive?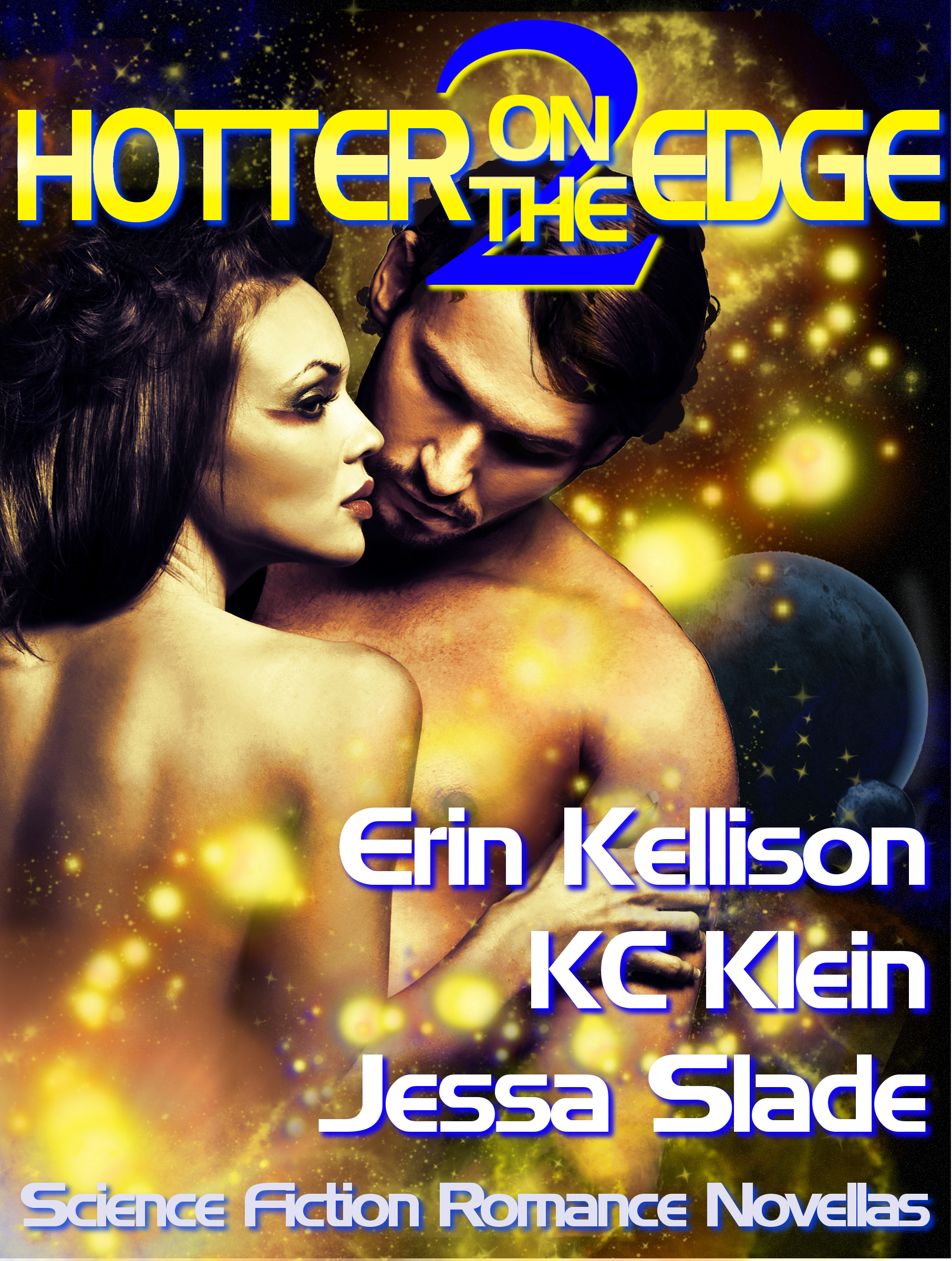 To Keep A WIFE  (A Dark Future Novella 2)
In the shards of civilization ruined by a global war, Lake has gotten the life she never dared dreamed of—a safe haven, and the love of a good man, her husband, Hudson Black Creek. But Lake's hard-won happiness doesn't last long when powerful Elders lay siege on Black Creek Manor in retaliation for a past defiance. As Lake watches everything she loves go up in flames, she sacrifices herself for the chance to keep Hudson and her brother alive. Syon, a diabolic Elder with his own agenda, will push Lake to her breaking point, forcing her to compromise—heart and soul— in order to survive.
Hudson wakes from a head wound to find that his whole world is reduced to ashes. With no memory of why he's sacrificed everything for a woman whose name is tattooed on his chest, Hudson is determined to make his heart match the emptiness of his mind, and wipe out everything except the hatred for those who are to blame—the Elders and the wife he sought to protect.
As evil and fear spread across a war-torn land, Lake and Hudson are tested like never before, and both will have to forgive betrayals and risk greater heartbreak if they want a chance at saving their lives… and their love.
3 Comments